I have officially re-named my "summer bucket list" . Because , let's face it: bucket lists are things you want to do before you die, and there is just too much pressure in that.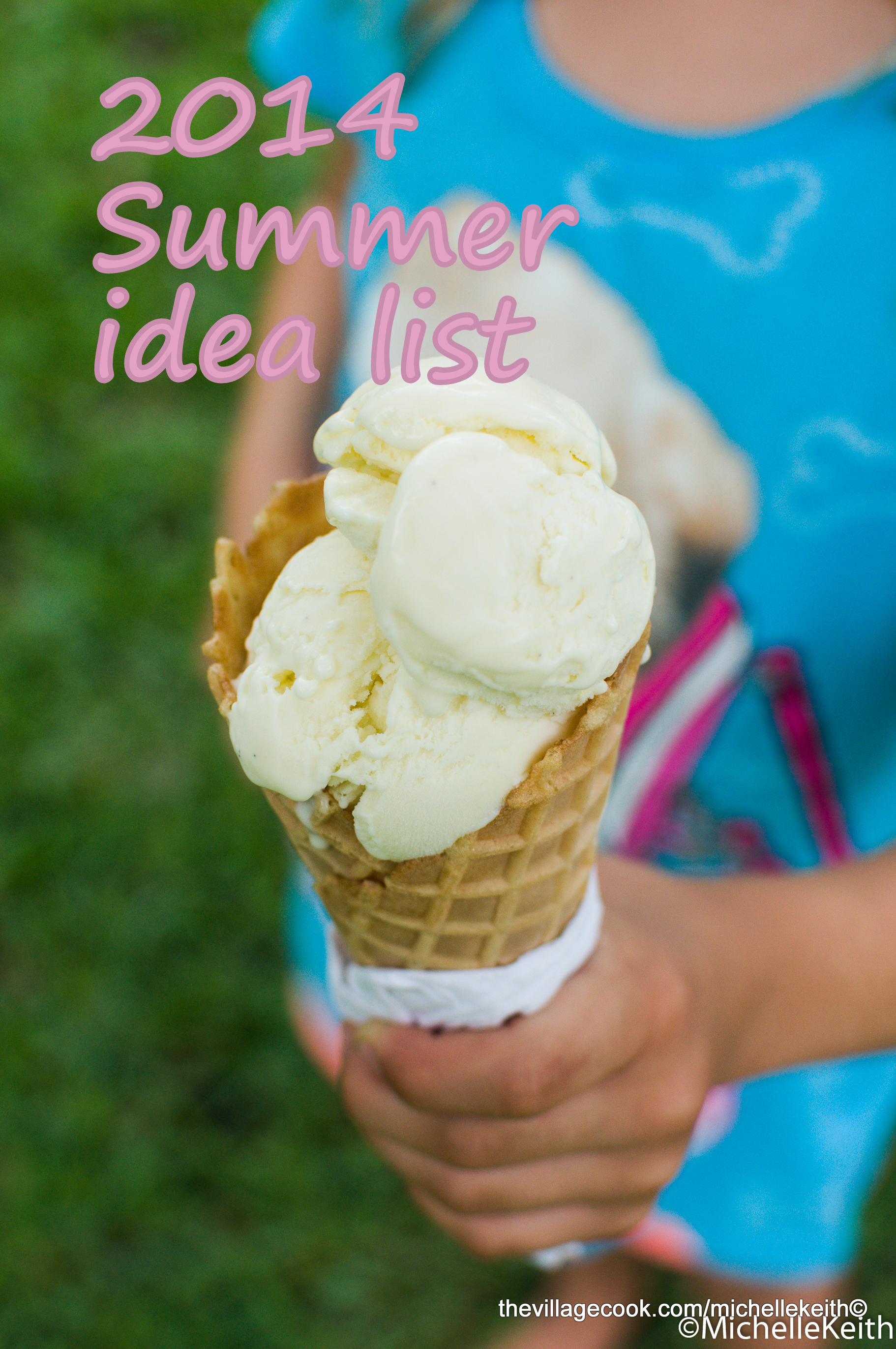 As summer approaches in the next few days, with the official start being the actual last day of school, I compiled a list of things to do and look forward too…. many are food related,  and most are just about making memories.This year, my daughter is old enough to hold attention for longer than 7 minutes, so I am incorporating a few geography and history lessons, (to be honest- I'm actually trying to remember all the stuff I leaned in grade school so I don't feel like a total idiot next school year when she comes home telling me things I should know)
First of all the things we do every summer:
She sleeps in = I get to drink my coffee hot, have devotional time and work on writing projects
We have breakfast together= I'm usually hungry once she's up
Pool trips and beach trips = I need to lose my goth-like paleness
Backyard camping =  I need to use the camp gear yearly, otherwise my husband will toss it because "it's never used"
Freeze Yogurt and call Popsicles breakfast
Make crafts= otherwise the craft stash will be trash
Walk the fat dog = he's a Boston Terrier that is starting to resemble an Orca
Go fishing= need to stock the freezer for emergency sushi cravings (we both love sushi)
Plant our yearly sunflower garden
Water balloon and squirt bottle fights = we don't have a pool, so this is the low budget way to keep cool
scavenger hunts = AKA help me clean out the garage
picnics= can't stay inside all day, can we?
fire and police station visits= love on the people that protect, serve and save
treasure hunts= as in our dog dug a big hole in the backyard, I may as well hid something cool in it
tie dye day= recycling the shirts that have spaghetti-O stains
pedal boat rides= gotta squeeze in a mommy workout
pier trip= because that's just fun
bike rides= AKA mommy workout
finger painting= probably I'll  have some more stained shirts to tie dye after this
pottery= I love pottery… never to early to start her, right?
Now:
The "new" stuff I may or may not accomplish…
Theme days:
Be a reporter and make a "newspaper"
Homemade beauty salon at home (I love having a girl)
A day spent making an assortment of homemade cards to keep on hand all year
Christmas craft day= you can never start too early
Pioneer Day= learn about Florida Pioneers, and visit some local landmarks
Australia Day = (hopefully that will end with dinner at Outback)
Butterfly Day= learn about butterflies and plant a  butterfly garden
Art Day= visit the museum and come home to paint our own gallery
China Day= because we LOVE  Kai Lan
I'm going to attempt to hold her attention long enough to read outloud  get through a chapter book together… (that hasn't happened yet.) My mom used to read Lois Lenski books to me when I was growing up, she used to give special voices to all the characters. She was really good at it; now I realize it's because she was a PROFESSIONAL ACTRESS….(she "retired"  when she had kids)  they way she read made the characters seem  real.  I'm hoping I can channel a bit of that talent this year….
Of course there are free/cheap movies to see, free bowling, mini golf, playgrounds and other public adventures for summer- but,  unfortunately a lot of those places get bombarded with a stampede of summer camp kids and we usually end up annoyed and trampled after visiting those venues. That's why I make these lists. It's kind of a necessity, and a guide when it's so hot that my brain won't work- it's nice to have a list to go down for the dreaded " Mommy, I'm booooooorrrrrreeeeeed!"
Now: the mommy (aka food) portion of the list:
rock candy= maybe I can make this a science lesson?
solar cooking= may come in handy if there is a hurricane and the power is out a month
homemade cheese= because I love cheese
sea food themed day= sushi, and salt water taffy
homemade cones for ice cream = it's summer, afterall
Key lime pie= since I have a tree…
BBQ/Picnic food day= mmm, deviled eggs, potato salad, baked beans, ribs, cole slaw, and cookie cake
Now: I most likely won't get a 5th of this done (remember the epic fail last year?) But, it's nice to have some go-to ideas when it's Africa hot outside and the thought of planning something is exhausting. 🙂 Happy Summertime, folks!!!